REFERENCES-INFORMATION LINKS PAGE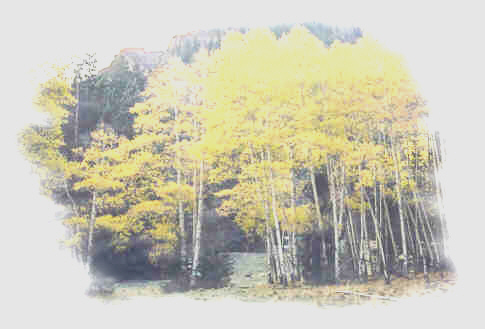 "Archery season finds fall colors and Elk in our High Country Wilderness hunting Areas"
COFFEEPOT HIGH COUNTRY OUTFITTERS, INC.
LICENSED-INSURED-BONDED # 2079

The next License Application deadline is April 5, 2006 for Colorado. No preference points?? Please call us for our availability of land owner voucher tags for this year
To book any of our quality hunting packages a one third deposit is required to confirm hunt and dates. A contract, receipt and clothing list will be sent to you after recieving your deposits for your signature and review. REFUND POLICY: If a client does not draw his license as applied for he has two options,(1)... a refund of deposits less $200 (30 day time period after draw results) or (2)... forward the deposit, hunt and same price to the following year's hunt for a period of one year after gaining a preference point. Our license application service is free if you book with us and we will do all paperwork for applications. CANCELLATION POLICY: No deposits will be refundable due to any cancellations of the hunt or trip and is up to the sole discretion of the outfitter and circumstances involved. If the cancelled hunt or trip is successfully re-booked for the same dates, price and camp, then a refund of deposit is allowable less a $100. cancellation fee per hunter. All requests for refunds must be made in writing to us according to Colorado State Outfitters Law. If born after Jan. 1, 1949 a hunter in Colorado must have a hunter education safety course completed by a certified instructor. All hunts are first come, first served. There are no hidden costs incurred with our hunt packages. All hunts are fair chase. Licenses for each species must be purchased by the client and are not included in the hunt price.If You choose to fly, Gunnison Airport pickup and return from our trailhead, fee is $50. per client. Another option is flying to Denver and using a car rental to our location. References are available on request or click on the link below. For more infomation or a brochure do not hesitate to call or leave a message. We will get back to you. or E-MAIL US. Office hours are 7:00 A.M. to 9:00 P.M. MST, seven days a week.

Coffeepot High Country Outfitters, Inc. and Timberline Outfitters & Guide Service is owned and operated by Kelley and Monte Sanburg, of Montrose, Colorado. Kelley (Field) and Monte married in 1984. Natives of Montrose, they have lived their entire lives farming, running livestock and hunting the western slope high country of Colorado. They are both fourth generation family members in the Uncompahgre Valley (where Montrose is located). The outfitting business has been a stronghold for the family for three generations and making "Coffeepot" a reality has been the goal for many years. It has taken a lot of hard work and dedication to put the business together, but with patience and persistence the high standards and goals of Coffeepot Outfitters have come to surface. There is a wide range of services they offer between big game hunting, fishing and outdoor adventures. Each package is designed with the consumer's safety and satisfaction in mind. They are steadfast in their ideals of providing services to the best of their abilities and being recognized in our profession as a top-notch outfit.

Kelley graduated from Colorado State University in 1984 with a B.S. in Agricultural Business, at which she returned home to raise horses, cattle and ranch in Montrose. Monte has worked in the mining, ranching, and construction fields since high school. He has been traveling about the United State as a superintendent for Pinnacle Construction out of Omaha, Nebraska for the past several years. The primary focus for them both is however, the guide and outfitting business.

Monte has been guiding for elk and mule deer since he was a young boy and knows how to set people up for a successful hunt in the country that he has hunted himself for many years. Kelley handles the business end, the horses and packing in and out of remote camps. They have a team of guides, wranglers, cooks and helpers that make this whole thing work very well. They pride themselves on honesty and integrity.

References are available upon request.
other optional hunt and vacation packages website here.... "Coffeepot High Country Outfitters, Inc."

Visit us at these 2006 Trade shows!
51st Annual Kansas City Sport show January 3-8, 2006 H. Roe Bartle Hall 301 W. 13th St. Kansas City, MO Booth #412
Denver Sportsman's Show. Denver, Colorado. January 26-29, 2006. Colorado Convention Center.
Eastern Sports and Outdoor Show. Harrisburg, Pa. February 4-12, 2006. state Farm complex. Booth #3314-A
Milwaukee, Wi. Journal Sentinel Sports Show March 10 - 19, 2006.Wisconsin Exposition Center at State Fair Park. Booth #811
Wisconsin Deer & Turkey Expo. Alliant Energy Center, Madison, Wi. March 31-April 2, 2006
73rd Northwest Sportshow March 24 - April 3, 2006. Minneapolis, MN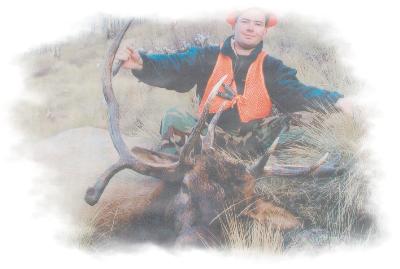 Even if your not planning on hunting Colorado this year we would highly recommend applying for preference points and start building them up. This will insure that you will be able to get the appropriate license when you want to hunt rather than having to wait for several years. All game units in Colorado are by draw license for first rifle season for Elk and all are draw for mule deer. Colorado is very popular with many hunters who hunt elk. Why not hunt in the best premier limited license trophy elk units such as ours and avoid the crowds. For more information on how to do this feel free to contact us or the Colorado Division of Wildlife

WHY CHOOSE US AS YOUR OUTFITTER? Pack-in by horseback to Remote Wilderness tent camps in prime big game habitat with big Bulls. Excellent success ratios on Elk and Mule Deer Archery-Blackpowder-Rifle. Absolute honesty in our operations and a satisfied quality hunt is our policy. Low hunting pressures with exceptional trophy elk herds makes our quality hunts a step above the rest. We are the exclusive licensed Outfitter in our designated hunting areas by USFS -BLM special use Permit. There are no hidden costs or trophy fees on our hunt price packages. 36 bulls to 100 cows ratio makes Unit 66 one of the top elk areas in Colorado. Excellent meals and food service compliment all of our hunt packages. No crowds, ATV's or roads to spoil your hunt in this Colorado Wilderness Area. Thirty years experience in the outfitting business with professionally trained guides, gentle horses and a family owned business. We also offer hunt packages in units 65 and 64 with gauranteed licenses for elk with cabin, lodge facilities along with tent drop camps. References and past clients are our best success history-give them a call.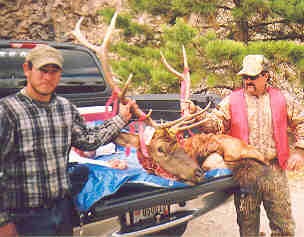 OUR REFERENCES AND LINKS FOR ELK HUNTING WITH US
WHAT OUR FULLY EQUIPPED DROP CAMP CONSISTS OF...
ODDS AT DRAWING A LICENSE-PREFERENCE POINTS, WHAT DO THEY MEAN?
QUESTIONS & ANSWERS ABOUT OUR ELK HUNTS
HUNTER CLOTHING LIST/PACK-IN WEIGHT LIMITS
COLORADO HUNTING LICENSE FEES & DATES
APPLY FOR UNIT 66 LIMITED LICENSES ONLINE HERE
GAME MANAGEMENT UNIT 66 LOCATION
TIMBERLINE OUTFITTERS FEATURED IN BOWHUNTER MAGAZINE ARTICLE "The Drop Camp Option"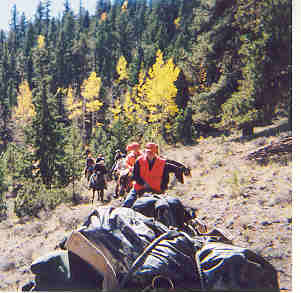 Timberline Outfitters & Guide Service is owned and operated by Kelley and Monte Sanburg, Coffeepot High Country Outfitters, Inc.,15328 6800 Road, Montrose, Colorado 81401. Please vist our other website for optional hunts and vacation packages offered by us
click here..... "Coffepot High Country Outfitters, Inc."
To book your hunt please call 970-240-4075 or cell at 970-209-2628. Fax 970-240-4075 We are here to serve you.

Timberline Outfitters and Guide Service, dba Coffeepot High Country Outfitters, Inc. operates under special use permit with the Gunnison-Uncompahgre National Forests, U.S.F.S. in the Uncompahgre -Big Blue Wilderness Area of Colorado, Game Management Units 66, 65, 64. We are an equal opportunity service provider and employer, and licensed by the State of Colorado. All hunts fees are good as advertised and there are no hidden costs incurred during the hunts. Absolute honesty in our operations and a satisfied quality hunt is our policy. We are full time outfitters and customer satisfaction is our ultimate goal. You will find some hunts less expensive than ours with low prices "to good to be true" and usually they are. Something has to be left out; poor stock, ill prepared cooks, camps, guides and way to many hunters in camp with few if any elk or mule deer to be found. There are many expenses that go into operating a quality outfitting operation such as ours and we believe that we give you the best value for your hunting dollar. Call our references listed above or call us for a complete list. Over 30 years of experience in the Colorado outfitting industry. Thank you for your interest in hunting with us and we look forward to hearing from you soon. Kelley and Monte Sanburg, owners and operators.
Hunting Knives. Huntingblades.com specializes in the sale of quality hunting knives and hunting knife accessories for the discriminating sportsman.
COFFEEPOT HIGH COUNTRY OUTFITTERS, INC.
LICENSED-INSURED-BONDED # 2079
THIS SITE is UPDATED FOR 2005-2006-2007 SEASONS
Copyright ©1997-2006, all rights reserved