Wilderness Trophy Elk and Mule Deer Hunts: 2007 Packages and Rates
(4% tax will be added to all rates and packages. $200 per person required to reserve your hunt, non-refundable. This $200 is a separate fee if reservation is held over 12 months. If hunt is within 12 months of booking, the $200 is applied to the first deposit.)
"A traditional Colorado Wilderness pack-in horse hunt in Trophy Unit 66"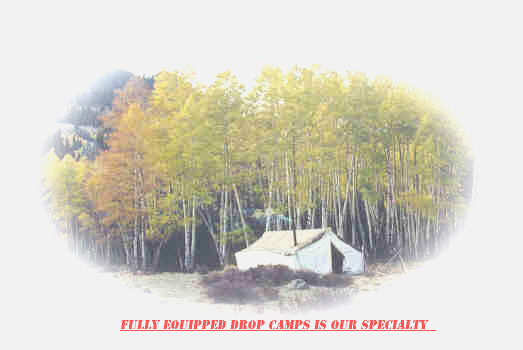 OUR HIGH COUNTRY WILDERNESS BASE CAMP.......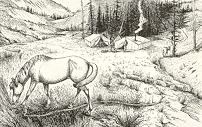 located at 9900' elevation, is a 4.5 mile ride in on horseback from the trailhead(8650' el.)and winds it's way up the rough mountainous terrain to the Colorado wilderness back country. The base camp consists of a 20X60' custom wall tent including a dining area, kitchen, guide's quarters, showers, plus comfortable individual sleeping tents with bunks for our guests and 18 head of well trained mountain horses. We personally operate all of the guided and outfitted hunts from this location for a satisfied hunting experience. A camp cook is on duty at all times to prepare breakfast, lunch and supper. An interesting historical note is that this camp location dates back to the year 1910 and functions today much as it did then. Also we have a competent crew of guides and wranglers to assist you. The main function of our Base Camp is to provide for our guided clients, horses, supply our drop camps, and to provide guided and semi-guided elk and mule deer hunts from this location with some excellent hunting to be found. All guided and semi-guided hunts are conducted in an exclusive area for our clients. Located here is a VHF two-way radio for communications to our drop camps and home base,and for emergencies. We do have clients who prefer the added convenience of this larger camp, with guides, cooks, and all the comforts of home. From the Base Camp, we have up to five fully equipped drop camps located two to eight miles from the Base Camp, situated in their own geographic drainages. These camps range in elevation from 9900' to 12000'. The placement of these drop camps is unique and offer excellent hunting opportunities during prime hunting hours and proven harvest results for elk and mule deer. Many clients, who have keep a quite camp, have taken game within a couple of hundred yards of their camp. Our staff will explain the best hunt methods, prominent game trails and crossings to your group on arrival and pack-in if you choose one of our self-guided drop camp packages.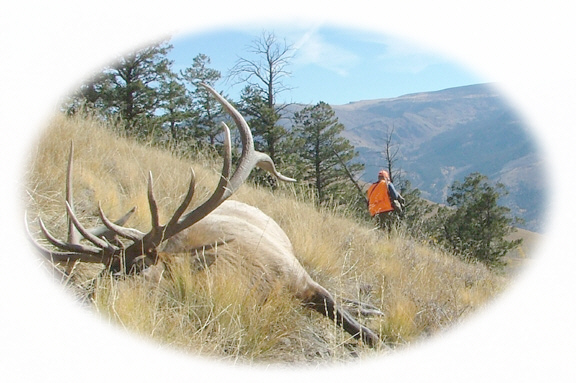 ARCHERY and BLACKPOWDER HUNTS are conducted in the month of September during the elk rut. These are one of our most popular hunts with outstanding opportunities for the bow or blackpowder hunter. Average archery animal harvests on our guided hunts for the last five years has been 30% with almost 100% shot opportunities. Muzzleloader hunters enjoy near 100% kill success. 2X1 guide to hunter ratio with 1X1 hunts available. For bull elk, archery licenses will require 1-2 preference points while muzzleloader licenses require a minimum of six preference points. Deer licenses will require a minimum of 4-5 points depending on the season hunted. These hunts are located in Trophy Unit 66 where you will pursue big bull elk and mule deer in some of the best country in Colorado. You will not be disappointed in this hunt.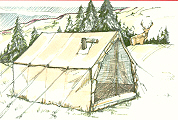 Our fully equipped wilderness drop camps include a complete food package that consists of fresh meats, eggs, bread, veggies, water and beverages, snacks, canned and dry goods. You will have a comfortable 18x18 wall tent complete with lanterns, axe, saw, cook stoves, wood stove, cots, pads, pots and pans, and a two way radio for contact to base camp.
This is much more than just a drop camp as we include many extras not found in other camps. We will share with you maps and hunt strategies. Thre are no horses or guides are left in the drop camps. All you need is your gear, weapon, and license. We will pack your gear in and out with game harvested. Clients responsible for skinning, quartering and bagging game for pack-out which must be accessible by pack horses in the field. We will pack out all animals harvested ASAP to prevent spoilage of the meat. Archery and blackpowder hunters are not put in the same camps or nearby areas to insure a quality hunt. Extra days may be available, ask outfitter. Pack-in limit is a 30 lb. Army type duffle bag, 10 lb. daypack, sleeping bag, and weapon. All drop camps must have a minimum of two and up to four clients in each camp. Fee includes Elk, Mule Deer, and Black Bear with approporiate licenses, purchased by the client, your choice. We believe you will not find a better equipped drop camp anywhere in the Western US.
| | |
| --- | --- |
| Archery Drop Camp for all that is described above. Unguided. Nine day trip with seven (7) full days of hunting. Extra days may be available. A minimum of two clients to book an archery drop camp. Excellent opportunities! Includes packing of game. Dates: August 25 to September 23, 2007 | $2250 Ea. |
| Muzzleloader Drop Camp includes all that is described above. Unguided nine day trip with seven (7) full days of hunting. Extra days available. A minimum of two clients to book a drop camp. Excellent opportunities! Includes packing of game. Dates: September 8 to 16, 2007 | $2250 per hunter |
| Guided Muzzleloader Hunt. Eleven day trip with nine (9) full days of guided hunting 2X1 guide ratio. We expect to get you on to a nice bull within the first few days of the hunt. This is a first class professional hunt with topnotch guides. 90% kill opportunity. Dates: September 8 to 16, 2007 | $5000 per hunter 2X1 (1:1 guide ratio $6000) |
| Semi-Guided Hunts during archery and muzzleloader season are also available from our Main Camp. These hunts include a guide for one day, cook, sleeping quarters, all amenities. Includes packing of game. Can be scheduled anytime within the seasons. Nine day trip with seven (7) days of hunting. | please inquire about availability |
| All prices on this page include game pick up at the kill site and packing to the trailhead. Game will be delivered to the locker in Gunnison. Please be sure to add 4% to all listed prices for tax. | |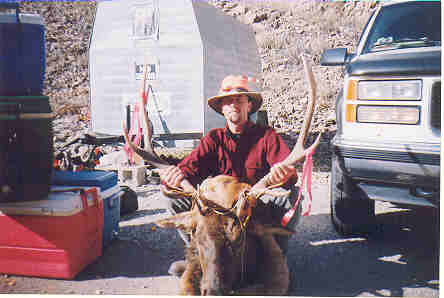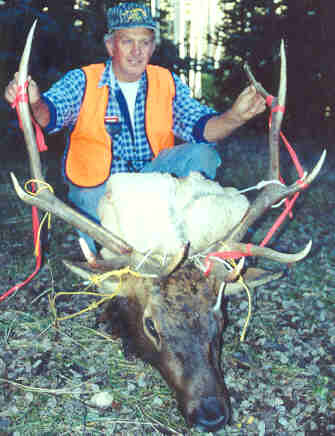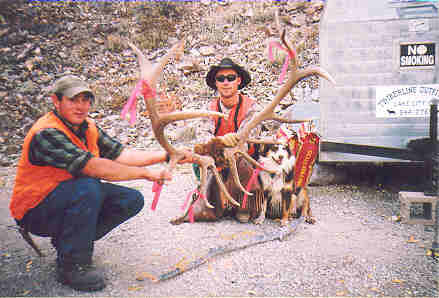 You may hunt a combination of elk and mule deer at the same price with no extra fee. Our staff, packers and guides work hard for you and a sensible gratuity is greatly appreciated by them.

CUSTOM RIFLE HUNTS FROM DROP CAMPS TO FULLY GUIDED
Rifle elk and deer hunts&nbsp are conducted in the month of October and November during the first three rifle seasons. To draw a license for bull elk you will need one or two preference points. Mule deer for all methods and seasons takes about 6 points for non-residents. We generally expect heavy snow by mid-November so we do not plan any 4th season hunts here. These camps offer you an excellent opportunity to take a mature bull elk and there are some really big mule deer too. Extra hunt days usually are available for the second and third combo seasons. Please ask outfitter. Five year average elk kill success from drop camps has been a solid 50% to 60% with 90% opportunities. Fully guided hunts and semi-guided hunts have experienced 75%- 90% kill success for elk. All hunts subject to a Federal user fee (3%) and county tax (1%)which totals (4%) of the hunt fee.
Fully equipped wilderness rifle drop camps include everything as described above. You can hunt elk, deer and black bear from these camps. The drop camps are located out from Main Camp anywhere from 2 to 8 miles. You will enjoy uncrowded hunting in a true wilderness setting. No motorized vehicles allowed and no ATV's. Drop camp hunters who maintain a clean and quiet camp often find animals within a close distance to camp. These are high country camps and hunters should be in good to excellent physical condition to fully enjoy these hunts!
2007 Rifle Hunt Dates: Oct.13-17 (elk only), Oct.20-28 (elk/deer), Nov.3-9 (elk/deer)
| | |
| --- | --- |
| Guided Rifle Hunt seven day trip with five (5) full days of hunting. Includes all that is described above including 2X1 guide service each day. This is our highest success hunt for big bull elk and some terrific mule deer bucks. Depending on the weather and location of the elk herds, we will either ride out early each morning on horses, or take off on foot. Fully guided hunt all inclusive except for your license, sleeping bag and personal gear. | $3800 per hunter 2X1. 1X1 hunts available at $5300 per hunter. |
| Trophy Mule Deer: We are pleased to offer trophy mule deer hunts in Unit 66. These hunts are fully guided only. We will hunt Unit 66 where you will see plenty of mule deer and hopefully have the opportunity to harvest a trophy 160" to 180" deer, perhaps bigger. Hunts will be from horse or 4WD depending on weather and where we are seeing the big bucks. Based out of our Main Camp at Independence Gulch or our Mill Creek Camp. | $4500 per hunter. 1X1 hunts available at $5500 per hunter. 2nd and 3rd season only. |
| NON-HUNTERS are welcome! If you would like to have a non-hunter accompany you on your trip with us they are welcome to share this wonderful experience. We will do our best to make sure everybody is dry, warm and comfortable. | $1000 per person |
| All prices on this page include game pick up at the kill site and packing to the trailhead. Game will be delivered to the locker in Gunnison. Please be sure to add 4% to all listed prices for tax. | |
Physical Conditioning:&nbsp The high mountain country we hunt is rugged and hunters should take time to prepare physically prior to the trip. This is very important! Our Wilderness hunts are from remote tent camps accessed by horseback only. Being physically ready will help you get into prime hunting locations, and will of course greatly increase your chances of harvesting an animal. I cannot stress the importance of physical conditioning enough, as your conditioning will play a role in your success and enjoyment of hunting with us. Year after year, the number one reason a hunter does not harvest a game animal with us is because he or she is not in the necessary physical condition and we cannot get you into position to shoot. You should begin a workout program well before your hunt which includes both aerobic conditioning and strength work, particularly for your legs and lungs. There is nothing better than putting a 50 pound pack on your back and hiking up the nearest mountain!
Advantages of booking early:&nbsp Book now for the 2008 or the 2009 season and you will not have a large dollar amount invested until the year of your hunt. And, if you reserve camp space with us now you can choose the dates and the type of hunt you desire. Our hunts always fill up every year, and usually early in the year, so by booking now you will not be disappointed.
A successful big game hunt takes planning and in Colorado it is especially important given the situation with the non-resident preference point system. Our $200 reservation deposit assures you that we will be working on your behalf for as many years as it takes to get you the hunting license you want. At your request, we will do your license application and paperwork for you. We recommend this approach so that you do not make some of the many mistakes we see each year that cause clients to be unsuccessful in their draw attempt. Please feel free to call or e-mail us for a brochure at any time and we will be glad to explain our licensing service to you.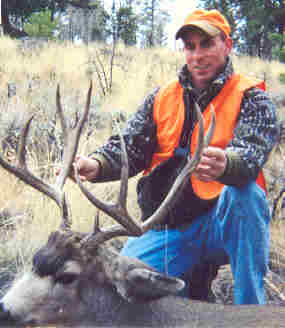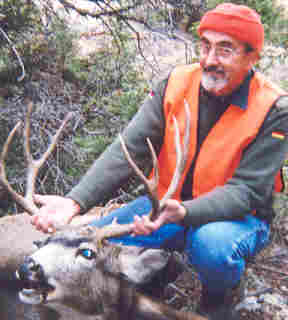 Brian and Doug Jennette of Michigan are all smiles after they scored their first Mulie bucks on opening day with our 4X4 guided hunts.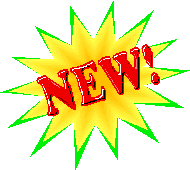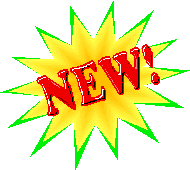 Lodge and Cabin hunts now available in units 64 & 65 with guaranteed counter elk licenses. Call us for details.
2007

Colorado

License Fees
| | | |
| --- | --- | --- |
| License | Resident | Nonresident |
| Elk, Cow | $33.25 | $253.25 |
| Elk, Bull | $33.25 | $485.25 |
| Deer | $23.25 | $290.25 |
| Bear | $33.25 | $253.25 |
| Fishing (annual) | $20.25 | $40.25 |
| Fishing (5 day) | $18.25 | $18.25 |
| Fishing (1 day) | $5.25 | $5.25 |
Kelley Sanburg, Colorado Registered Outfitter & Guide #2079, Welcomes you to a quality hunt with us. If your interested in our elk or mule deer camp hunts you will not be disappointed in our services. Phone 970-240-4075. Satisfaction is always guaranteed!