COLORADO WILDERNESS ELK HUNTING
(SCROLL DOWN TO VIEW PAGES)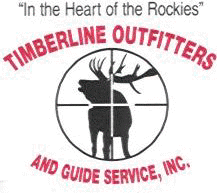 dba
COFFEEPOT HIGH COUNTRY OUTFITTERS, INC.
LICENSED-INSURED-BONDED # 2079
Offering Fully Equipped Drop Camps with Food to Fully Guided Trophy Elk and Mule Deer Hunts Unit 66
Lodge and Cabin Hunt packages available in Units 64 & 65 with guaranteed licenses
"Colorado Wilderness Trophy Elk Hunting at it's Best"
by Professional Guide and Outfitters, Kelley & Monte Sanburg
Doug Frank, outfitter consultant
Phone 970-240-4075. Cell 970-209-2628. Fax 970-240-4075
Welcome to our website with complete information on Colorado Elk and Mule Deer Hunting. We are full time hunting Outfitters and customer satisfaction is our ultimate goal. We live in the Colorado Mountains year-around with the Elk and Deer herds and know first hand their habits, migrations, Summer ranges, Fall and Winter ranges. Come enjoy the trophy Elk or Mule Deer hunt of a lifetime with us! Colorado has the largest elk herd in the world and our hunting area is exceptional and unique beyond compare. We offer traditional Colorado Wilderness horse pack-in tent camps, from fully equipped outfitted Drop Camps complete with food to Fully guided Elk hunts with all amenities and professional guides. Low hunting pressures plus an excellent population of mature Bull Elk and Mule Deer equals a true uncrowded Wilderness hunting experience. Lets face it, a Wilderness horse pack-in Elk hunt offers your best chance of success in harvesting a trophy bull or buck deer with us. You will experience the best opportunities for trophy elk and buck deer that Colorado has to offer.If your a novice or experienced hunter, each client has an excellent chance of harvesting trophy size Big Game with our hunt packages and guide services. We believe you will not find a better equipped drop camp in the industry and our guided big game hunts are exceptional beyond compare. If you choose from a Drop Camp or our fully guided elk hunts, expect only the best in services and camps from us. We only take a limited amount of clients each year for a quality hunting experience with low hunting pressures and excellent game populations. Excellent Archery hunts plus superb rifle hunts a specialty. Hunt one of Colorado's premier limited license trophy Elk and Mule Deer unit 66 in a beautiful Wilderness area of Southwestern Colorado. We also offer package hunts in Colorado units 64 and 65 which have guaranteed counter elk tags available. We are the exclusive Outfitter for the permited areas we hunt in.Customer satisfaction is always guaranteed on our elk hunts.
HIGH COUNTRY WILDERNESS PACK-IN HUNTS WITH BIG BULLS AND BUCKS
| | |
| --- | --- |
| Disappointed in over- crowded hunting areas in the past ? We stress quality, not quanity in our hunting operations. We conduct our hunts in the famed Uncompahgre-Big Blue Wilderness area of Southwestern Colorado. Access by the public is rather limited due to the remote and mountainous terrain of this Wilderness area and license allocations by the draw system. Elk and mule deer licenses are by draw only in this limited license Colorado unit 66, enabling our clients to enjoy a successful hunt with low hunting pressures and excellent opportunities for big game. All clients stand an excellent chance of taking a good mature Bull.   Camps are located five to ten miles by horseback into the Wilderness back country. You will not see motor vehicles or ATV"S here and no roads. This Wilderness area is remote, rugged and mountainous terrain. Estimated Elk herd in this game basin management area is 16,000 animals as of this year, with a good concentration of mature bulls.The bull to cow ratio is 36/100, an excellent trophy ratio for elk. The secret is out!! Welcome home to a true Colorado Wilderness hunting experience! We also offer package hunts with guaranteed counter elk tags for units 64 and 65 with Lodge and cabin accomodations. Please call us for details. | |
| | |
| --- | --- |
| | We strive to provide exceptional service, good food, equipment, horses, and professional guides and wranglers for a successful hunt.We own and train our horses, we do not rent them like some outfits do. This makes for a better experience for clients with well seasoned Mountain stock. The Elk population speaks for itself in satisfied clients. Hunt with an experienced, State licensed outfitter and qualified Guides in spectacular Big Game country. Service is our middle name, Success is our reputation. Typical Bull Elk harvests score anywhere from 260 BC to 335 BC. Although our fully guided elk hunts gives you the highest success for a trophy animal, our drop camps offer an excellent elk hunt with good success. We also offer youth licenses for that father and son hunting team. See details at price and dates page. This is our guarantee to you, You will not be disappointed with our Elk hunts or services. |
These are fair chase hunts for wild bull Elk in a pristine Wilderness area. There are no guarantees for success, but planning and strategy on our part and yours, our clients harvest their share every year. Physical condition is important. The better shape your in, the better the hunt, although we do have Elk hunts to accomodate everyone's abilities. Hunting should be a "fun" outdoor adventure and here at Coffeepot Outfitters we work hard to accomplish that goal. Watch our hunting video and look at our photo page. You will agree, this is the way a hunting camp should be. Clean, comfortable Camps are well equipped with all the amenities that a client expects and deserves. We offer only topnotch camps with experienced staff for the finest hunting adventure.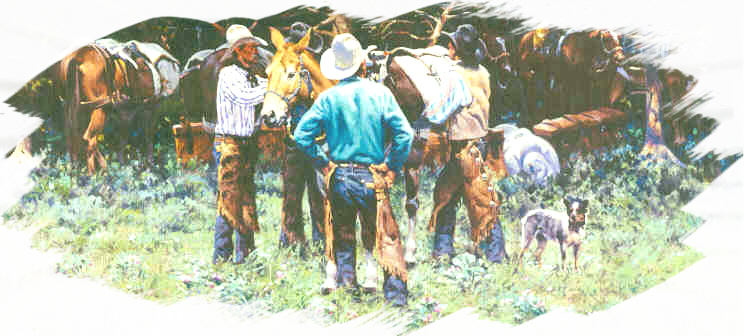 (All prices and information subject to change without notice.)